---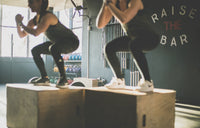 Customer Reviews
New me
This program was awesome. It gave me the push I needed to go to the gym. Jacinda had amazing videos for all of the workouts, including modified versions of all of the workouts! Jacinda is an amazing coach. If I had any questions or concerns she would help me in any way that she could. I am very excited to continue my fitness journey and see how far I go, all thanks to Jacinda.
02/13/2022
Identity Athletics
Thank you so much for the amazing compliments!! It was such a pleasure working with you. I'm so happy you were able to get in the gym and really work on yourself!!! I hope to do another BootCamp with you soon.
01/02/2021
Evander R. Saunders

United States
This Was the Change I Needed!
In a world of boring routines, Identity Athletics brought back the passion for being better. I've worked with plenty of coaches throughout my fitness journey, and this one kept me coming back for more. Jacinda, the Head Coach, defines a great leader with the knowledge and skill you can depend on. She took her time getting to know me, my habits and asked the questions that mattered. It was one of the first times I felt like the goals given to me were for me and no one else. (Guess that's why It's called Identity Athletics, lol) The recipes and nutrition plan were super easy to adjust to, and her assigned workouts were new, fresh, and kept my body guessing! This was not a cookie-cutter boot-camp. This was the change I needed, and I appreciate Jacinda's dedication to helping me be the best I can be! Thank you, Identity Athletics!